Project Management
While many of our clients are capable of managing their own projects, there are occasions where your staff may be over taxed and need some assistance. We can take over an entire project or any component of a project to help you succeed.
Sweeps & Rollouts
Thompson Fixture Installation can execute your multi-store sweep/rollout program while staying on budget and meeting your deadlines. All of your changes will be accommodated including:
• New Feature Fixtures
• Graphics Packages
• Millwork Fixtures
• Rollout and Replacement of New Fixtures to All Your Stores
Our policy is to get in and get out fast….without being noticed.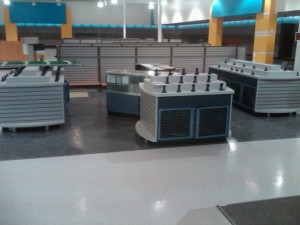 The experienced Thompson Fixture Installation team excels at:
• Meeting short deadlines.
• Handling Hundreds or Thousands of Locations in a Program (We've completed sweeps in over 600 stores within three months)
• Managing Projects and Delivering Feature Fixtures to Thousands of Locations.
• Minimizing Interruption to Store Operations (Your customers and employees will hardly know we've been there.)
• Providing Cost Effective Implementations
Store Remodels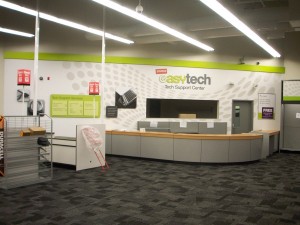 Your Store Remodeling project will be completed in a shopper friendly and safe environment by Thompson Fixture Installations skilled and experienced staff.
You can count on TFI to:
• Minimize Loss of Sales During Remodels
• Keep Customers and Personnel as Safe as Possible
• Communicate and Coordinate with Other Trade Crews (electricians, plumbers, construction, etc.)
• Change-out Old Fixtures with New Ones and Minimize Off Shelf Merchandise Time
Store Closings & Relocations
In today's economy, store closings and relocations are commonplace and need to be handled professionally, efficiently and quickly. TFI will work with your team to plan, budget, and execute your closing and relocation projects.
We go on the road with you to relocate all your fixtures, signs, and showcases.
TFI supports recycling efforts by using steel and plastic recyclers or others as needed. TFI can recycle approximately 75% of your old, obsolete fixtures.
Fixture Change-outs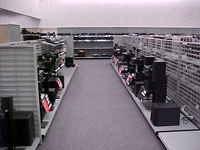 Fixtures just don't last forever and eventually become worn out, ugly and unsafe. When this happens, TFI can change out your old fixtures with new ones quickly and efficiently.
Your in-house or contracted merchandisers will be supported by TFI's experienced merchandising teams to make an otherwise tedious task as quick and transparent to your customers as possible.
Your merchandise will be off the shelves and back on the new ones quickly to minimize any potential lost sales.
Whether your projects calls for a one to one change out, or includes some area relocations, TFI can turn this project a positive experience for your company.
Additional Project Leadership Activities
If you are our client, you are a partner and our success is dependent on yours.
Rent Equipment, Storage Containers and Dumpsters
During change-outs, remodels, openings and closings you may have need for temporary storage, special equipment or dumpsters. We can arrange for these to be delivered to your location.
Fearing the Logistics of Implementing Your Big Idea?
Many projects never get off the ground for fear of the logistics on how to get all the fixtures and signage in without major disruption to operations. TFI has helped many clients figure out how to take their big idea and turn it into reality in a well-organized, efficient, and timely way without disrupting their business. Just call us with your idea and we'll work through the logistics with you.
Team Support
We can supplement your staff with one of our on-site project managers. Having a project manager in your office greatly improves communication between our installation teams and your staff by responding to urgent issues immediately and eliminating critical delays
Flexibility
We are flexible enough to tailor our services to your needs. Need something out of ordinary? Just ask. We are here to assist you in any way possible. If you need to get it done, we have the people who can do it.
Year-Round Support – Strategy & Planning
If your company needs facilities planning and strategy support, TFI can work directly with your team to:
• Consult and Plan Upcoming Activities
• Provide Budgeting Input
• Manage the Project
• Coordinate with the Facilities Team
• Provide Maintenance on Existing Equipment (Painting, Repair, Refurbish, Replace)