Store Fixture & Installations
Thompson Fixture Installation has the experience and expertise to complete your store fixture installations without hassles. TFI installs it all, including everything that goes inside your new store from the front door to loading dock door.
Retail Store Fixture Installation
We don't hand you a list on our way out the door. Our policy is we don't leave until the job is 100% complete!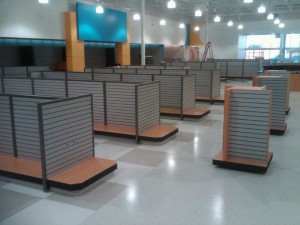 Our expert team can install your company's:
• Custom Millwork
• Glass Showcases
• Electronic Display Walls
• Steel Fixtures
• Gondolas
• Backroom Shelving Including Pallet Racking
• Fitting Rooms and Office Furnishings
• Pharmacy Fixtures
Retail Pharmacy Fixture Installations
Pharmacy installations can be complicated. Rest assured whether you are adding fixtures to an existing pharmacy or furnishing a new one, TFI has the expertise to handle complex pharmacy installations.
Our Pharmacy Qualifications: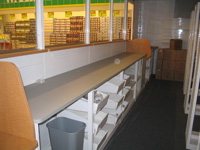 • Certified by a leading pharmacy fixture manufacturing company to install its fixtures
• Specializes in complete stand-alone pharmacies
• Adds and changes pharmacy fixtures to your exact specifications
• "Pill proofs" your pharmacy so medicine isn't lost in cracks or crevices
Customization & Modifications
Your site may need special accommodations during the installation process and TFI can perform in-field modifications to get the right fit for your business.
Quality Inventory Management
Your fixture inventory and supporting materials will be monitored by TFI Supervisors who have the expertise to manage all incoming shipments and notify you of missing or damaged materials well in advance.
Multi-tasking to Help Clients Succeed
Starbucks asked us to install music racks in 980 stores over three months from Maryland to Florida. TFI worked out the logistics, including picking up the displays with TFI trucks, securing a warehouse to store them, and managing the entire process. The entire job was completed in two weeks!
We work mainly on the East Coast of the United States. How can we help you with your store fixture installation?